Directions to bicycle the Danube River Cycle Route, Austria, now part of Eurovèlo 6, from the Atlantic to the Black Sea
Organize your own cycling trip, or take a commercial bike tour
Bike Rating: Excellentt
|Best Seasons: Summer or Early Autumn
Nature of the Ride: The Danube River (Donau in German) flows from its source (at Donaueschingen) in the Black Forest of Germany, to the Black Sea— 2900 kilometers (1,700 miles) downstream. Serbia and Romania are not considered safe for western bikers, on and off the road, and are not discussed here. In Germany and in Hungary, many bikers do safely follow the Danube . However, by far the most popular section for biking is in Austria, between Passau, Germany (on the Austrian border) and Vienna—a total distance of 340 kilometers (~200 miles).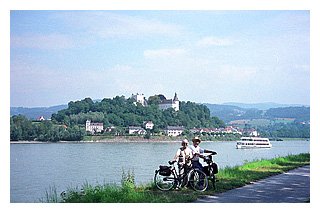 This bike tour's rightful popularity arises from a great concentration of diverse views, and from tourist sights that bring new variety on each day of a ride. Additionally, one rides upon wide bike paths (or very minor roads) apart from traffic, usually right alongside the river.
(Whereas, riding along the Danube in Germany often entails roads, and in Hungary, on roads and on highways.)
As a plus, in the case of bad weather, river steamers provide a painless way to continue a journey. Finally, there are scarcely any hills and little chance of high winds. Bicycling road signs, pointing to the main routes, to variants, to nearby sights, and to hotels, usually clearly indicate the route.
Thus, the Danube bike route is excellent for families with children, and does in fact attract many families. One caveat: In order to reach hotels in some towns, one must ride for short distances on city or town streets -- or walk on their sidewalks.
The Austrian Danube Bike Route is normally ridden from west to east, because the route gently slopes down with the river; because the prevailing wind and the afternoon sun lie behind you; and because sight-filled Vienna climaxes your trip. Usually there is a signed route on both sides of the river. Choose to ride on the side that has the best bike path, or the one with the shortest way, or the one with the most scenery. Bridges and ferries periodically link the two river banks.
Along the Danube route, at most stopover points, you will have a choice among many modest and superior hotels. Most require that you eat breakfast and dinner at the hotel. Many possible stops have campsite, and b&bs, but some hotel stays will be necessary. During the author's trip to Vienna, all hotels were welcoming, clean and comfortable. I never observed, on my trip, a cyclist riding with paniers. It seems that everybody was staying in lodgings, and using a baggage service. However, as a link below shows, it has been done!
One hotel dinner was "fair", another "very good", and four others, "good". Lunch can be found at many snack bars and small restaurants along or near the bike-route. Be sure to try at least one jausenstation, where a local family, in the country or on a farm, serves you homemade cold cuts and cheeses on a wooden board while you sit at picnic tables.
Please refer to this site's home page for links to important background on touring styles, transportation, bike types, rentals, maps, information sources, traffic ratings, packing, and security and safety tips. Star symbols in the text show the author's ratings, which in this case are identical to the ratings given by the Michelin green guide books, which the author likes and uses. Three stars mean worth a journey; two, worth a detour; and one, interesting.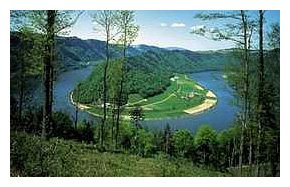 When to Go: The best weather for this itinerary is mid-summer, when you run the least chance of rain. On the other hand, in mid-summer you do risk sweltering heat, which would be less likely in June or September. As a summer rider, also, you must book your hotel rooms in advance.
Tips: In the season, the bike paths can become crowded with riders, many of whom start each day from the same city. This is particularly true for those riders starting from Passau on a weekend. If convenient, start your trip mid-week. Try to be on the bike path by 9 a.m. or even earlier, because most families and groups will not leave until 9:30 or later.
Attractions: Your ride will take you by many castles, museums, churches, abbeys, quaint villages, beautiful towns, and some interesting cities, which are mentioned below. The Danube, itself, always pleasing and often lovely, is omnipresent.
Passau**, Germany, the starting point of the ride, is a charming town at the confluence of the Inn and Danube rivers. In addition to its architecture, it has a museum with an outstanding collection of glass. In subsequent days, you will visit the incredible Wilhering Monestary Church***, considered the height of flamboyant baroque architecture, and the Abatial Church of Melk***, a close second. The ruined fortress above Durstein has a fine view of the town and vineyards below. The cities of Linz* and Krems and Stein**, and the town of Grein are full of charm.
A short climb out of the valley leads to the interesting but somber Mauthausen concentration camp, or to castles of Artstetten** or Klam*. Two days before Vienna, picturesque vineyards line the river, where steep hills block the north wind. By the time you reach Vienna, one thing is certain: You will know more than you ever expected about flamboyant baroque architecture!
Vienna*** ("Wien" in the German language, pronounced Veen, is a major capital with many, many attractions, some of which will appeal to any taste. Do obtain a good guidebook to the attractions, to make the best use of your time.
From Vienna, you may wish to continue by bike, boat or train to Budapest*** on the Danube (perhaps with a brief stop in Bratislava) or to Prague***, both of which are fabulous art and architectural cities worth a multi-day visit.
The following page on Chuck Anderson's site has some excellent photos he took of the Austrian Danube while on a cross-Europe "camping" bike tour: http://www.cycletourist.com/Scenes/Austria/Donau_Sunsets.html
How to bike it: Organize the trip yourself, as described below; or take a commercially organized self-guided tour (with bike rentals, hotel reservations and baggage transport), or a guided tour. Several of the companies offering self-guided and guided tours are located in Austria, and may be found on the net. At least one USA bike touring company offers the trip. Most companies rent bicycles at Passau and collect them at Vienna. The author's self-guiding group used the hotel-reservation, bike-rental, and luggage-transport services of Rad&Reisen Eurocycle, in Vienna, and was satisfied with an excellent trip at a very modest cost (confirmed 2010 - but since 11 years have passed since the author's trip, be sure and check out all of the alternatives yourself.) Contact info: http://www.radreisen.at/en/home.html.)